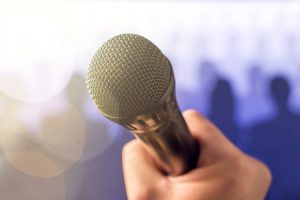 There are a lot of options to consider when planning an annual business conference for your entire company or franchise organization to make it unique and rewarding for your participants. As you're sifting through the possibilities for your agenda, it can be hard to determine whether your event and its attendees will truly benefit from the activities you plan.
If you're thinking about hiring a motivational or keynote speaker but aren't sure it's worth the investment, we can assure you that it is. Check out some of the most significant ways a motivational speaker will contribute to your business, as determined by our experts in high performance meeting solutions!
1.) Inspire your people.
The constant routine of day-to-day work life can become tiresome and draining. Break up some of that monotony with the positive energy a motivational speaker brings to an event! Speakers help attendees connect their job—and your organization as a whole—to a larger, more meaningful purpose that goes beyond their daily tasks. Boost morale and encourage staff to work together to achieve this shared mission with a motivational speaker.
This is especially helpful for franchise organizations and large companies with a wide network and multiple locations to reach. You'll see a turnaround on your investment when that infectious positivity translates to increased office productivity everywhere.
2.) Introduce new perspectives to stimulate excitement.
Change the way your associates look at their job and approach challenges with the story and advice of a keynote speaker. New ideas are often more convincing coming from new faces—especially ones outside of the company.
The emotional and poignant stories of effective motivational speakers will provide your workers with fresh insight, move them to appreciate their position, and improve overall work ethic!
3.) Boost attendance and engagement.
Business conferences with no creativity are a waste of time and won't have the lasting impact you seek. Get your team interested in the industry and poised to listen and learn, by bringing in someone with a unique perspective and powerful message, who can grab and maintain their attention.
Convince your potential participants that your event is worthwhile for them with the one-of-a-kind experience offered by a motivational speaker! Then, watch as they bring that enthusiasm and stimulated mindset back to your business.
4.) Show your employees and franchisees you value them.
Reward your group for good work and spark their desire to continue contributing to your company by making your conference fun! A motivational speaker will provide a unique opportunity that lets them know just how much you appreciate them.
Prove to your people that you care about their career development and want to invest in their abilities. Make their work environment more satisfying and enjoyable with the new insights that a motivational speaker can bring!
Our business connections at HPM Associates include an impressive and extensive list of motivational speakers to bring joy and inspiration to any business meeting! From high-profile sports stars to the most knowledgeable leaders in a wide range of industries, we can book the person most likely to meet your goals and affect change within your company.
Give us a call at 305-274-0030 to learn more about the elite meeting and convention services we offer to enhance your corporate event!