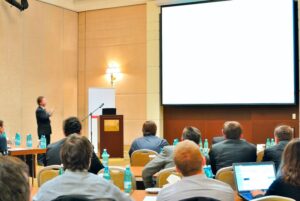 Every company is looking for ways to improve its business. The most productive place to begin making changes is with your employees, who run the front lines and confront the common issues within the business daily. When you set your workers up for success, your company will have a strong foundation, allowing problems to be solved quickly and efficiently, improving your business and the lives of your employees.
Here are a few reasons holding corporate training events for your staff is a great way to begin investing in the future and well-being of your company!
Increases Employee Retention
People are more likely to stay in a job where they feel encouraged and supported by their company. Providing in-depth training to your workers helps them feel more prepared and confident in their position, which leads to higher performance.
Organizations with successful training programs typically see a significant increase in employee retention. In fact, 86% of millennials would stay in their current position if their employer offered training and development!
Creates Multi-Skilled Employees
Training programs empower employees to become multi-skilled, extending their skill sets across various company areas. 74% of workers are willing to learn new skills or re-train to remain employable. Having employees with diversified skills will make it easier to transition them to other roles within the organization, saving your company the time and money it would take to hire new workers for these positions.
Keeps Your Company Ahead of the Curve
Regular corporate training events allow employees to learn the latest developments and skills within your company's niche. Whether new sales tactics or current marketing trends, your business will be ahead of the curve and ready to outperform its competitors and offer the best service to its customers.
Now that you know the importance corporate training events hold for your employees, you must plan some of your own.
Planning training meetings is an all-encompassing process for which many business owners don't have the time. That is where HPM Associates comes in for the rescue! From budget planning and management to finding entertainment and transportation, we can assist you in crafting the most effective corporate training events for your business. You deal with the meeting content, and we deal with everything else!
Contact us at (305)274-0030 to inquire about our meeting & convention services and take your company to the next level with corporate training events for your employees.