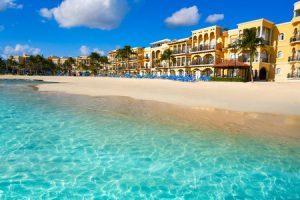 When it comes to incentive travel, there are hundreds of incredible destinations to choose from to motivate and reward employees and customers alike. One of the most popular countries where businesses like to send their hardworking employees and loyal clients is Mexico! This destination offers several beautiful areas to choose from—each with its own special characteristics and vibe.
We've highlighted just a few of the most desirable travel destinations in Mexico for incentive travel to help you decide what area will be best to achieve your company's goals. Learn a little bit about what each vacation spot has to offer and then head over to our website so we can help you reap the benefits of an incentive travel program!
Cancun
This fun Mexican city is best known for its vibrant beaches and luxury lodging options. Here you'll find plenty of all-inclusive resorts with gorgeous views of white sandy beaches and stunning blue waters! They offer fun ocean activities right on site that can be booked in advance or arranged day-of.
Many Cancun resorts are also adult-only, guaranteeing a relaxing and rejuvenating getaway.
Riviera Maya
If your corporation's style is more laid back, Riviera Maya might be the best place for enticing your customers and employees. This destination is considerably less crowded than Cancun, if you're going for tranquility over lively bustle.
Riviera Maya also boasts an appealing proximity to the well-preserved Mayan ruins. Many resorts will offer great deals on excursions to satisfy a passion for culture!
Puerto Vallarta
While a majority of Mexican cities are known for their all-inclusive resorts, Puerto Vallarta is especially noteworthy when it comes to impressive options for retreat. The cobblestone streets and abundance of local craftsmen only add to the charming ambiance you'll experience staying in one of this city's many incredible resorts.
An influx of international chefs over the years combined with striking mountain views makes Puerto Vallarta a unique option not to be overlooked for incentive travel in Mexico.
HPM Associates has a great working relationship with a wide variety of resorts throughout the country in each area listed above, along with other desirable destinations in Mexico such as Los Cabos and more! The resorts we work with are known for catering to the needs of our clients and providing valuable, high-level service for a great price.
Contact us at 305-274-0030 to take advantage of our industry connections and learn more about our elite incentive travel services. Find out how we can effectively budget, develop, and book a program that will inspire your employees and foster growth in your business today!