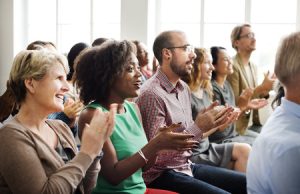 Planning an awards trip for your company can be a great way to boost morale and show your employees you really care about them and the work they do. But setting up the trip and the highlight of the awards ceremony can be daunting tasks, especially if you have never done it before.
Check out some tips that will help you prepare for a successful awards trip and/or awards ceremony.
Create a realistic budget
Before you start doing anything in terms of preparing for an awards trip and/or awards ceremony, you need to decide what your budget will be. It will ultimately determine everything from how many people you will invite and awards you can hand out to where you can hold the event in the first place. Your budget is an important factor that should be determined before anything else.
Find a venue
Once you have come up with a budget, you should use it to figure out where to hold your event.  If your budget allows, plan an entire trip around the awards ceremony to make it extra special! If you're not sure where to travel to, HPM Associates has you covered and will help you by providing several destination choices, since our contacts are worldwide!
Decide which awards you will hand out
The awards you give out to your employees will really set the tone for the whole show. If you want to make things more lighthearted, the awards should be somewhat silly and comical. If you want to keep things more serious, then the awards should reflect that and be serious in nature. Either way, you should make a list of the awards you want to give out during your ceremony.
Send out invitations and let everyone know what to expect
Once you have everything in order, it will be time to send out invitations, either by mail or email. The invitations should let your employees know what to expect by including the time and date(s) of the event, the location, and the expected attire for it.  It will be important to let them know exactly what is included in the overall package.   If it is a stand-alone awards ceremony, you can even include the name of the host and a photo of what your awards will look like, just to build up anticipation for the show. Everyone will be looking forward to your special evenat once the invitations arrive.
Do you need help planning your awards event? HPM Associates is here to help. We can assist you with booking the right venue, making travel arrangements, and so much more. We can even set up your ceremony and trip for you and make sure it goes off without a hitch. Call us at 305-274-0030 today to learn about our unique and exceptional services!