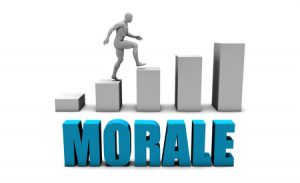 Running a successful business comes with a lot of responsibility. A good leader knows though, that the key to a profitable enterprise is the hardworking employees that keep it running!
Keeping your staff motivated day after day can prove to be a challenge. If you don't put the time and effort into inspiring your people to work towards a goal, the gradual drop in productivity will start to affect your revenue and the quality of your company as a whole. Prevent your workers from becoming apathetic by strengthening their resolve with these effective techniques!
Recognize employee achievements.
It's important to ensure your employees feel appreciated for what they contribute to your business, so they'll continue to put in the work. Be generous and open with your praise, taking the time to recognize specific people for specific accomplishments.
Commend productive workers publicly—at the monthly company meeting or on business social media pages—to make them feel they're truly making a difference. Gratitude and positive reinforcement go a long way when it comes to employee motivation.
Implement an effective incentive program.
Give your employees something substantial to work towards to inspire greater output. They'll come to work and do their job everyday because they need a paycheck, but if there's a tantalizing reward in sight people will go above and beyond!
An incentive travel program is a highly effective way to stimulate excellent performance throughout the office. Set a sales goal or another benchmark of productivity and offer an enticing trip to a luxury resort to the first person or group to reach it. Watch employee efficiency skyrocket and your profits follow suit.
Provide professional development opportunities.
Show the members of your staff that you're invested in them as individuals by offering career advancement and professional development resources. If your people feel that you care about their career and personal progress, they'll put in the effort to prove to you that they're worth it.
Offer different educational courses and certifications for employees to take advantage of to advance their training and make themselves more marketable. Host engaging industry events, such as an annual conference or special convention, and invite other people from your field to join. Not only will your employees appreciate the networking opportunities, but your company will also gain some good exposure.
If you're looking for ways to improve employee morale but aren't quite sure where to start, let the experts at HPM Associates help! We specialize in designing effective incentive programs and organizing productive meetings, training programs, and other corporate events. All you have to do is share your goals and let us take care of the rest.
Call us at 305-274-0030 to start taking advantage of our knowledge and experience today!