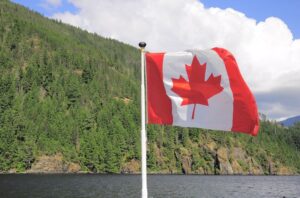 Planning an incentive travel program for your company requires a lot of work and preparation. If you start now, you have just enough time to line up the perfect trip for your well-deserving employees or customers.
If you weren't already thinking of Canada as your ideal destination, then you should be now. No matter what you look for when you travel, Canada can deliver. There is something for everyone from outdoor adventure to food, art, and culture.
Here are a few places Canada has to offer when it comes to your perfect travel destination.
Banff, Alberta
Banff was designed as a traveler's dream destination. The town itself lies in the middle of Canada's first national park. To protect the area around Banff's hot springs, the Canadian government deemed the land off-limits for sale, eventually creating Banff National Park. The park has captivated visitors throughout history with its seemingly endless landscape of soaring mountains, pristine forests, and turquoise glacial lakes.
Banff Avenue, which is in the center of the town, is lined up with shops, restaurants, and bars for you to enjoy and explore. You will also find the Banff Lake Louise Tourism Bureau here, where you can stop to get tips, advice, and information about the national park.
Niagara, Ontario
There are so many exciting things to discover in Niagara, Canada. Home to Niagara Falls, Niagara-on-the-Lake, St. Catharine's, Twenty Valley, and South Coast, there are endless activities and events year-round. From award-winning wineries to thrill-seeking jet boat tours on the whitewater rapids, there's something to keep the fun rolling.
The Niagara region is close to three major airports, and four international bridges are connecting Niagara Falls to the United States, making trips by motorcoach a great option.
Québec City, Québec
Quebecers are known for being warm and welcoming. Everywhere you go, you'll be met with a smile. The people are proud of their francophone culture and North American roots. Québec City is known for its rich history, cobblestone streets, European architecture, and fortifications. It is an authentic piece of Europe within Canada. The city is famous for its natural beauty, from peaceful lakes to rolling rivers to the glacial valley in Jacques-Cartier National Park.
In summer, Québec City is buzzing with activity. Warm days are filled with people wandering down the cobbled streets of Old Québec and sipping locally crafted beer on restaurant patios. There is always a steady stream of events, exhibitions, and festivals. It is no wonder that Québec City ranks as one of the world's top travel destinations.
Canada certainly boasts a diverse experience for everyone. This exceptional country has something to offer, no matter your needs or preferences. If you have been convinced to choose a Canadian destination for your upcoming incentive travel program, HPM Associates can help.
Our incentive travel planning services assist you in developing a program that will inspire and motivate your clients or employees. We take care of all the important details and ensure your trip is pleasurable and successful for everyone involved.
Contact us today at (305)274-0030 to start creating an incentive program you will be proud of.