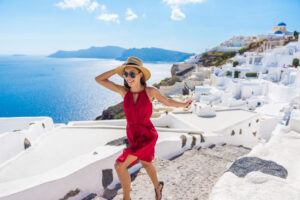 After over a year of being hunkered down at home, people are desperate to scratch that travel itch now more than ever. For your company, that means right now is the perfect time to put together an incentive program to motivate employees, attract new customers, or reward the clients who have stuck with you through it all. But with different locales having different COVID-19 guidelines in place, the travel waters are still a little murky.
To help you ensure you get the most out of your incentive travel program, we've listed some of the current top travel destinations, and their updated COVID requirements, below!
1) Bahamas
With a wide selection of premier resorts, gorgeous beaches, plenty of group activities, and jaw-dropping views, the Bahamas is always a great choice for an incentive trip. The atmosphere is perfect for all types of goals, whether it be team bonding, relaxation, or a balance of training and fun.
Current COVID-19 Guidelines: Full vaccination within the last 14+ days or negative COVID-19 test within the last 5 days, no quarantine
2) Greece
Greece offers an excellent combination of historical exploration and island relaxation for whatever you're looking to accomplish with your incentive program. There are multiple different islands to choose from, depending on your goals. Plus, many airlines are even adding direct flights to Athens from major airports, making travel even easier.
Current COVID-19 Guidelines: Negative COVID-19 test within 72 hours or proof of full vaccination within the last 14+ days, no quarantine, nighttime curfew 1:30-5:00am
3) Mexico
There are many great places in Mexico to plan an incentive trip that range from fun and vibrant, to laidback and relaxed, to historic and inspiring. A lot of their top-of-the-line resorts are even offering COVID-19 testing for guests.
Current COVID-19 Guidelines: No testing, vaccination, or quarantine requirements in place, land border is closed but air travel is permitted
4) The United States
In the months of restricted international travel, many adventurers have rediscovered just how many wonders there are in our own backyard. There are endless types of destinations to choose from—Las Vegas for the party crowd, California for the beach goers, Colorado for the mountaineers, New York for those who crave big city life, etc..
Current COVID-19 Guidelines: Check for local restrictions and guidelines
As a leading incentive travel planning company, HPM Associates has the latest insight on all major travel destinations. We'll help you choose the right spot for your trip, arrange all of the details, and create an itinerary that makes the most of your destination and aligns with your company's goals.
Contact us today to start planning an incentive program that works for you!