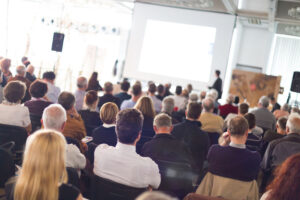 In today's society, there are various things people are eager to learn and share. For the sake of your company's growth, you must encourage a culture of upskilling and learning among your employees, and one way to do so is through conferences and meetings!
Here are a few key ways meetings and conferences can enhance your company and the lives of your employees.
Educate Employees on Company Updates and Improvements
Educational interest is one of the top reasons to encourage your staff members to attend conferences. The event could cover different types of niches and activities that will have an impact on your staff. Doing this will ensure your team stays updated with new strategies that might affect business productivity and any company improvements that need to be shared. Knowledge is power, and many speakers who attend these conferences have ideas designed to inspire and educate your staff members.
Get in Extra Training
Ongoing training is important to progress in a company. A company conference is a great way to train staff and to do it all at once. Staff members' attention spans will be longer, and they will take more in when they are away from their desks learning. Also, consider bringing in motivational speakers. A new voice will be more engaging than your own, and the audience will more likely pay attention to the fresh presenter with different views and ideas.
Network and Make Connections Offline
Conferences allow for a space to make your meetings offline. We often have many connections across the social platforms we use in business. Still, Face-to-face interactions are more powerful and bound to make for a longer-lasting impression.
Company-run conferences are a great way to mix and mingle with the higher-ups in your company. This form of networking boosts morale and gathers all levels of employees with similar goals and interests, so they can meet key people in their profession who can inspire or assist them.
Improve Company Sales
You need corporate events to create a better understanding of your brand. Hosting a seminar or training for your employees is a great way to educate your team and help them boost sales by becoming better brand advocates!
At HPM Associates, we have 37 years of experience planning everything from corporate meetings to new product launches to incentive travel programs. We understand the importance meetings and conferences can have on a company, which is why we do everything we can to ensure you have a smooth and productive event. You plan the meeting content, and we deal with everything else!
Contact us today at (305)274-0030 to learn more about our meeting and convention services.