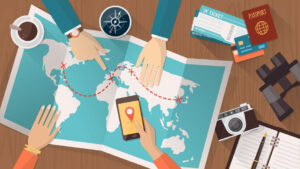 Corporate incentive travel is a great way to motivate and reward valuable employees or customers. Your travel program can be group or individual, and the destination can be local or international. Every successful incentive travel program begins with careful planning and research.
The following tips will help you plan a corporate travel incentive program that fits your company's culture, size, and available budget.
1.) Determine the Programs Goal
The point of an incentive program is to achieve a particular result or encourage certain behavior. When designing your incentive trips for employees, it is important to outline a collective goal. You may want to increase client satisfaction scores, hit specific sales targets, achieve a quicker production turnaround time, or decrease errors in paperwork. Whatever your reasoning is for incentive travel, outlining clear goals when introducing the program will justify the expenditure and link the reward to a clear result.
2.) Ask Your Staff for Ideas
A travel program is only an incentive if your staff wants to take your chosen trip. Gather plausible options for countries, cities, accommodations, excursions, and activities. Then, distribute a survey, and use the feedback to inform your selections. Consider including a write-in option on your questionnaire so employees can point you towards any useful travel resources or ideas
3.) Stick to a Budget
Any incentive travel plan will cost a pretty penny, but there are tricks to cut costs on your program. Researching beforehand helps avoid overspending. Before you commit to a destination or travel package, ensure you understand the total cost, including any additional expenditures such as insurance, service fees, non-included meals, transportation between venues, and tips for service staff.
4.) Offer Assistance and Resources
Not every employee or customer is an experienced traveler. If you want to attract the most people you can for your travel program, you need assistance and resources available. You might want to consider providing passport and visa application assistance, packing tips, CDC advisories and vaccine information, currency exchange services, and safety recommendations. It would be beneficial to hold informational sessions to ask and answer questions about the trip.
5.) Contact a Corporate Incentive Travel Company
Corporate travel programs require a great deal of planning and logistics management and coordinating such a program alone can feel overwhelming. There are many benefits of working with a professional incentive travel company, and relying on the guidance of professionals can take a lot of pressure off you.
Here at HPM Associates, we understand that your travel incentive program needs to reflect your company's goals and mission. We diligently plan a successful trip and offer complete budgeting assistance from beginning to end. Our company has vast resources and excellent long-term supplier relationships that enable us to negotiate special rates and concessions on your behalf.
Give us a call today at (305)274-0030 to learn more about how we can assist you with planning your next incentive travel program!